MS Power Apps License Guide
MS Power Apps License Guide
Licensing overview
General purpose, full Power Apps capabilities are licensed on a standalone basis. Additionally, limited Power Apps capabilities are included within various Office 365 and Dynamics 365 licenses. High level overview of the licensing structure is provided below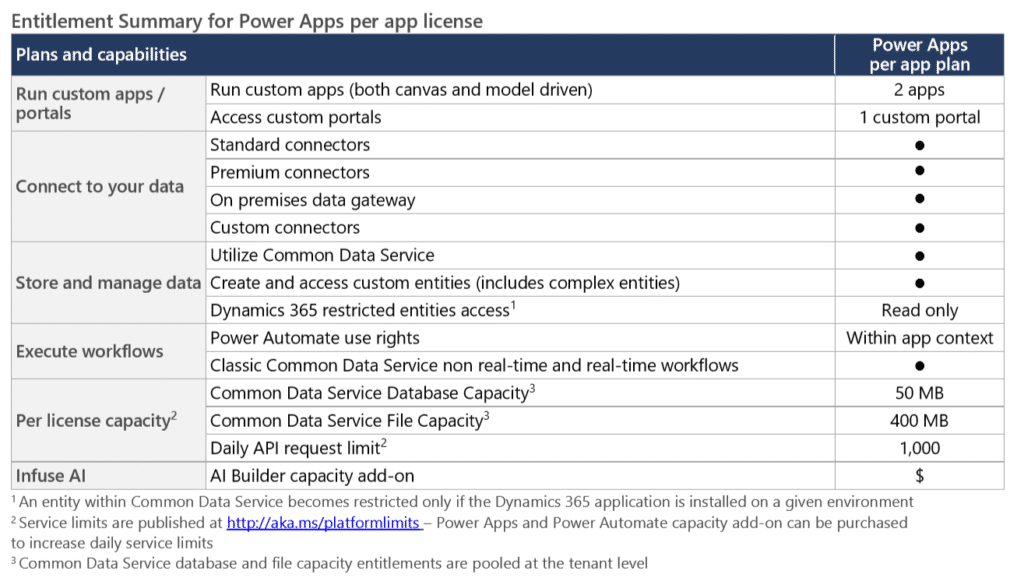 Note
Embedded canvas apps within a model-driven app will not count towards the two-app limit.
A single user might be covered by multiple 'per app' licenses to allow the user to use multiple solutions targeted at various business scenarios, without requiring a per-user license
Once a pool of Power Apps per app licenses are purchased, individual licenses need to be assigned to specific environments and to individual users (i.e. if the same app exists in two environments, a user would require two per app SLs to access both).
The Power Apps Per App plan is available to education customers under faculty and student pricing. Since these licenses are sold as tenant level capacity and not assigned to users in active directory, customers and partners will be responsible for ensuring that student pricing is only being applied to students. This means that when licenses are purchased with student pricing, the number of app licenses assigned to non-students (i.e. faculty) in the product may not exceed the number of faculty licenses purchased as this would indicate that student licenses have been assigned to faculty.